Day 3 of the IDC and we getting further into the curriculum and one step closer to the crowing the winning team of the the Big buddy house challenge. For those who Missed sign up for this IDC really missed out on a great time. Just seeing the Staff instructor Robin being the contact of the day in The Purple high heals should be reason enough that being here is a must. So if you missed sign up for this IDC don't miss the next who starts in Jan 15th
Minni Lovers started of the day winning the first secret challenge that PLatinum Course director Minni Vangsgaard had planned. Basically the Minni Lovers had the highest presentation score on their first presentation. WELL DONE !!!!
The day continued with Some RDP theory some back to basic information and some more complicated things such as M value, half times. Talking about half times after that it was time for lunch. I think already after 3 days the lunch is very appreciated since some already starts craving for it before the days starts and once its served any leftovers can be handed to J……
If you want to be able to change peoples life's by teaching them to dive you need to know your skills. And their critical attributes so that was next on the schedule and for some reason Julien was a magnet everyone had to sit in front or next to sometimes even on top of him…. Come on give the CD and staff instructors a break if we can see him we can score him ….. hmmm or maybe was that a plan? Also we wnt onto tying knots and using lift bag in the pool BUT some where some how something went horribly wrong. One of the candidates was tied up together with weight belts and lift bags SMBs was the briefing that unclear?
The Big Buddy challenge of the day was a Treasure hunt for equipment, the candidate teams had to  find a set of equipment eac based on clues given. 1 at the time until they found them all and then get in the water and get down to the bottom. One of the most funny part of this challenge was when the candidates had to run out to the bar and get an assignment from the bar tender that they had to finish before they could get the next piece of equipment. That included finishing a Smirnof ICE and eat 2 bowls of popcorn as fast as possible. Woooow we must have given them to little lunch based on how hungry they looked see for yourself.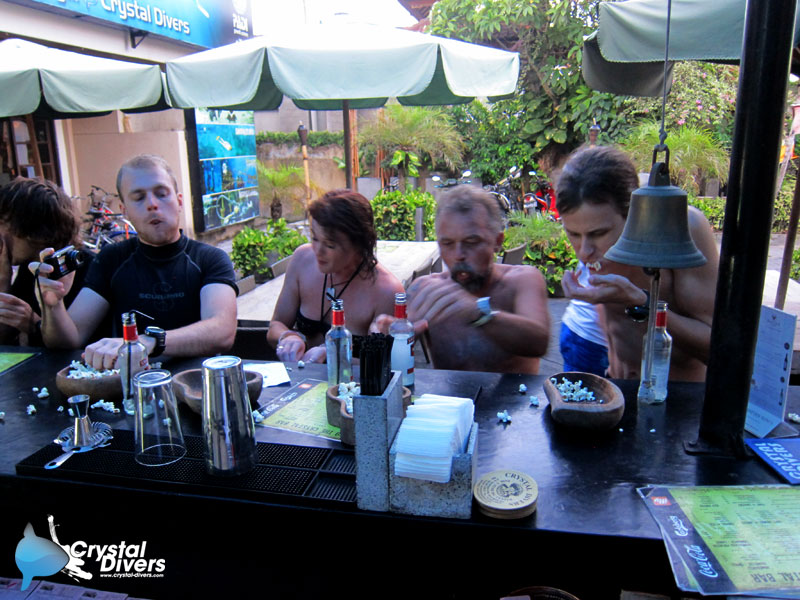 FINALLY they had "ALL" their equipment they thought…. However somethings was not quite as completed as they thought. You know when you sometimes get frustrated that it takes long to gear up and get into the water once you reach a dive site? Today that was not the case a good guess is that the equipment setup and the gearing up took around 30 seconds. But there was another problem they forgot to make a weight check which meant that the to teams hit the water almost at the same time but none of them managed to go down to the bottom which was the finish line for the competition. Also there where a few things missing or wrongly "found". Which ended up with that the Judges called it a FAIL so no one won the challenge it w a tie 0-0. Well done J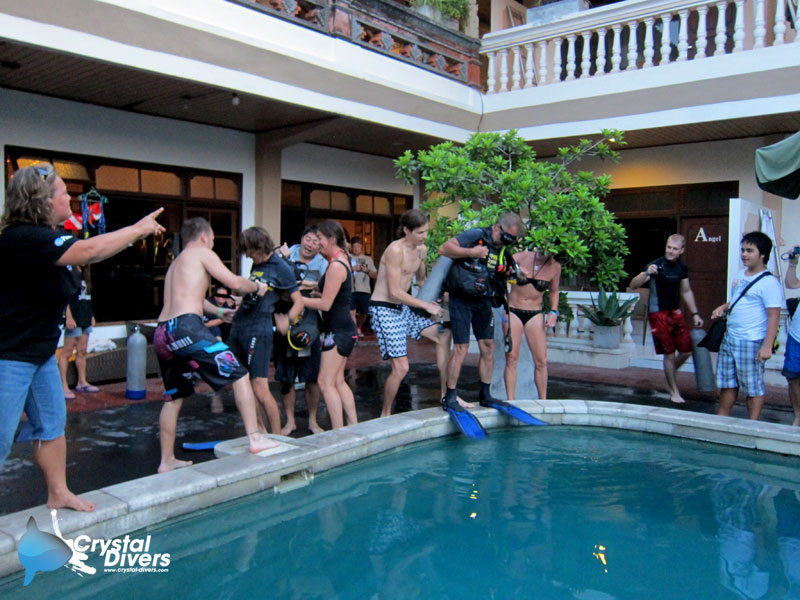 Day 4 of the IDC kicked off with a presentation on how to teach students in Confined water and a short marketing session. Referring back to the last post regarding being "Fraped" (facebook raped). There is revenge in the AIR something's been going on throughout the whole day but nothing has been said how and whats been done to revenge but it has been done.. stay tuned to find out what.
Time for another great lunch in Bali at Crystal divers restaurant which everyone was looking forward to some more than others, and the leftovers was well taken care of from one of the candidates, no names but …… took care of them again. And dont forget the deserts of the day.
Time for some pool work again  today they had to present their first Pool presentations all from the open water course. And you can tell these candidates are dedicated, Justine was assigned to swim very fast on the UW swim skill and she swam o yes she swam so fast no one could really see what happened but she snapped the fin and got crap and had a laugh attack.
The big Buddy challenge continued with another competition between the 2 teams today it was all about WILL POWER and breath holding. What team can get the furthest under water added all the lanes together. 4 persons per team and the wining team walked away winning after swimming a total 11 laps as a team WELL DONE. AA Team is dominating the challenges so far. Minni Lovers pick it up !!