Browsing articles tagged with " Mola"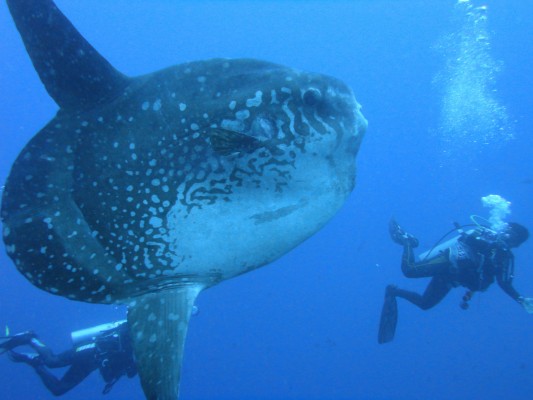 Bali has its fair share of dive sites, located as it is in the Golden Triangle, where there is a spectacular array of marine life and bio-diversity.
Bali has some of the best diving in the world, often featuring in the top 10 dive destinations of the world. Whether you want to dive a wreck, see fantastic coral, dive with turtles and sharks or you just have a hankering for macro life, Bali has it all to offer.
One of the most strange aquatic visitors to Bali has to be the Mola-Mola or Sunfish as its often referred to; a name it got because of its habit of floating at the surface with its side facing the sun, almost as if it were sunbathing.
Mola's are shy creatures but during the season are often seen around Crystal Bay, Nusa Penida and Candidasa to name just a few sites. They can be seen at the cleaning stations or just transiting through on their way back to the depths. Most often seen at 20 metres plus, they can be seen swimming at shallower depths; indeed only today, a group of divers on their way to Manta Point saw and snorkelled with a Mola at the surface. Stories of Mola breaching and leaping into the air have been heard on more than one occasion, the reason for which is they are attempting to rid themselves of parasites.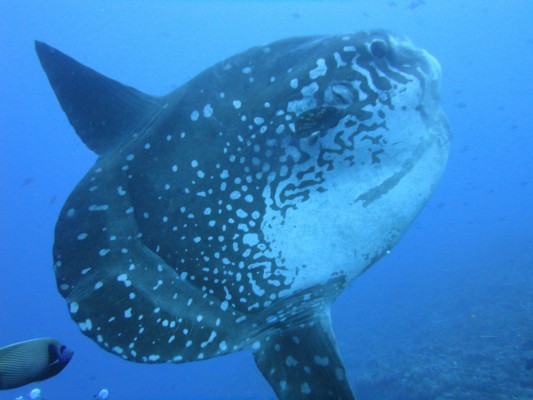 What can be frustrating to divers is the actions of others, who pursue and harass the mola, trying to get that 'perfect shot.' More often than not this results in the mola disappearing back to the depths, on occasion pursued by obsessed divers, oblivious to the danger they present to themselves and others. Or you get the odd diver that wants to touch the mola, often not realising that this removes the coating that covers all fish, causing immense pain, similar to third degree burns and which can result in the death of the fish.
Mola are a majestic, albeit odd looking fish and are best viewed from a calm and considered distance. There is no need to chase the Mola; quite often they are curious and will swim towards you, playing in your exhaled bubbles. It is down to all us divers to treat the underwater realm with respect, remembering to take only pictures and leave only bubbles.
If you want to see the Mola then Bali is the place to come and Crystal Divers has certainly a very good record when it comes to spotting these fantastic fish. With Toto, Asmui and Amin leading you, your chances are good as they have many years of experience and have seen many many Mola between them.
It is always special diving in Bali but its becomes magical when you see these amazing and yes, strange fish.
Please have a look at one of our videos of an encounter with this beautiful creatures
DDD