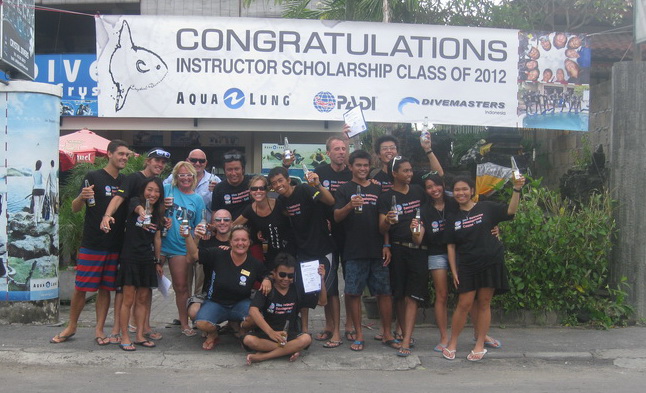 I watched one movie series and it was about intern doctors who need to find another place to get more experience, they did that in the 5th year of their education. In that movie, one of the attending didn't want to let go the intern, and another intern didn't want to move to another place. But at the end all needed to move on to gain another experience beside the place we called "home". It is the same with all of us here, the seven interns, we need to go to somewhere else than our home, we need to grow up to face the world but at some point we will go home.
Almost one month ago we finished our internship with 
CRYSTAL DIVERS
 as diving instructor. It has been a pleasure to be part of this program. I have so many new friends,a new family,a new life and great moments in my life.  Allow me to give big gratitude to all the people who helped me in diving and also non diving.
To my fellow interns, thank you for your friendship. I can call you all my sisters and brothers. You will always be part – one of the best parts in my life. It was also a pleasure to work with you guys, hand in hand. I haven't said a proper good-bye last time because it's not a permanent good bye. We will gather together – all of us – in some point in our life.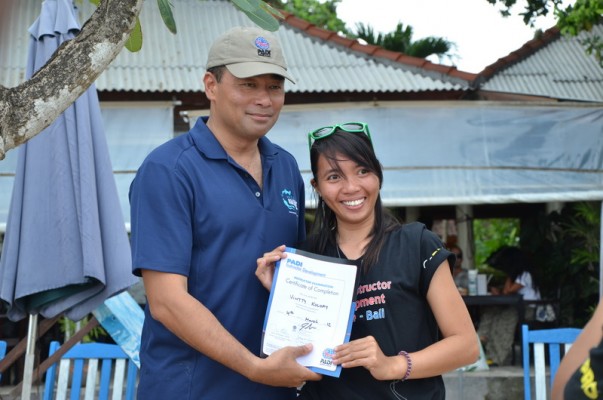 Vintty
, oneng -my beautiful roommate and my only sister in this internship, she always said it's ok for everything to me, especially in cooking. She also always helped us to learn about diving, a good teacher can I say especially for one of us (you know what I mean right ;)) . Good luck with your new journey we will meet again someday.
Eri
, the commandant, don't be worry so much.. Today is today, tomorrows problem just be tomorrows problems. That's what Eri always said to me. Don't be worried too much, life is easy. He also always gives us a place when we do over night trip to Tulamben because he is the owner of Tulamben :p Good luck for your job at
Tulamben Wreck divers
!!  I will come to you if I go to Tulamben.
Jink, the golden boy, we had some problem before, during the internship, but after several moments all the things got back to normal. Well its part of our journey maybe but we are fine now. He always entertains us with his jokes, because it is in his blood. From serious problems, he can also make it into a joke.  Take good care of your health seriously bro. Don't mess up with it again ok 😉 Good luck with your dive and we will meet again soon!
Nico, the adventurer, he really got many experiences in his life from bad things until good things. He also have someone special and finally he got the girl 😉 Way to go Nico!! You are a good instructor, believe that and don't worry about people talking about you. Just show them that you can do it, no need to say it. Good luck with Crystal Divers and take good care of crystal bro!
Imam, the thinker, he is a good person but at some times he tends to make simple things to be really complicated. Remember KISS imam and don't think too much ok. He is a friend who is always there for you when you need it and he's a hard working guy. Thank you for the bike and I wish you all the luck in Gili Air! You need to take me diving if I go there 😉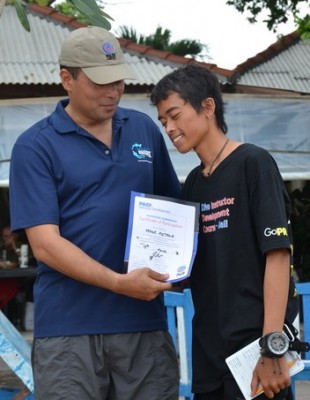 Made
, the little brother, first time he always thought that it's too hard and everything, but the good thing is that he wants to be success so he learns harder every day. Sometimes he didn't want to listen to everybody and locked himself in his room. He is a good diver but always get cold – eat more ya made ;), a good bartender, and also a good chef. Good luck in 
Big Bubble
 Made! I will see you in Gili!!!
I also can't express my gratitude enough to Crystal Divers. You gave us a once in a lifetime opportunity that   I will never regret in my life. Opportunities to know a hidden world, to know many people from around the world, to know the meaning of life. I would not know all the things if I didn't take this chance. All the instructors, dive masters, instructor trainee, guests, the girls, equipment boys, room boys, all the drivers, boat crew.  Thank you thank you thank you for the friendship. I am pleased to know each of you and you always have a place in my heart. Keep contact and all the best for your plans in the future. Also a big thank you to PADI, Dive Master, DAN and all the person who sponsored us. We will not be like today if without your help also.
I want to thank especially to Minni , who gave us this wonderful opportunity. It would not be like this, if you didn't have trust, support and dream. You have all the trust to us even sometimes we even didn't trust ourselves. You raiseed us like you raiseed your own baby. You love us from deep inside your heart. You taught us about diving and also life, courage, dream, and drinking. Now we need to grow up and face the world but you keep open your arms to hold us if something happen to us. You are our mom, our angel, our savior. We can't pay you but we can show you that your hard work will not be used less. Someday we will make you more proud to seven of us and we will try to not let you down.
This post will be the last blog for my journey in crystal diver because the program is over and we need to face the world in front of us as good instructors for our next generation. I, myself will go back to Jakarta to a new work place, Dive Master Jakarta. If someday you go to Jakarta don't forget to contact me there;)  I wish you all good luck and I hope we keep in contact <3 <3 <3